Back Pain and Homeopathic Approach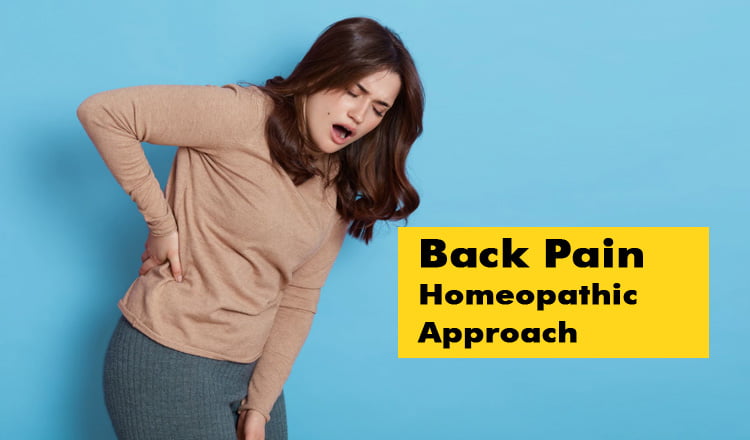 Back pains are found in almost everyone. From teenagers to old people, we all may have at least once suffered from back pain, sometimes due to some reason and sometimes not even knowing why.
Back pain can affect people at any age, and at any time. It can be related to your neck, spine, or disk problem. It happens due to muscle strain, bad habits, and posture. Sometimes people suffer back pain due to discomfort, injury, stress, and accident. Back pain can also be a result of old age or gene-related issues.
Back Pain
Symptoms
It is very obvious to think that if someone is having back pain, the person must feel the pain or soreness in the back and that will be the only symptom. But it is not true. As our back is the pillar of our body, with which we can sit, lean, stand and even move, any pain in the back may often show symptoms all over the body.
It has often been clinically shown that back pains can lead to leg, neck, and buttocks pain. Some of the most common symptoms which signify your back pain are –
inflammation on the back
constant back pain
legs soreness
neck stiffness
pain that reaches below the knees
urinating problem
numbness around the genitals
numbness around the anus
numbness around the buttock
Types of back pains
Back pains can be acute or chronic. It varies from one person to another. Generally, there are 3 types of back pains that seem to happen to people –
Acute pain – this type of back pain usually takes place in one's body when there is a harsh muscle pull. Lifting something heavy, sitting or lying in a bad position, small accidents, or falling can cause you acute back pain. This kind of back pain usually stays for a week or two and gets healed on its own.
Subacute pain – this is more serious than acute back pain. It happens when some wrong or sudden movement injures your soft tissue. Takes months to recover from subacute back pain
Chronic pain – this type of back pain is chronic. The pain is caused due to some internal damage of the body, say, spine-related or severe tissue damage problems. It takes a minimum of 3-4 months to get this kind of pain cured. Doctors' recommendations are must
Must read: Depression A Modern World Disease
Causes of back pains –
Some of the most common causes behind our acute or severe back pains can be from the following reasons –
Muscle strain
Ruptured disk
Spine injury
Bad sitting, and lying posture
Constant working
Stress
Spine cancer
Vertigo
Sleep disorder
Obesity
Smoking
No physical fitness
Unhealthy lifestyle
Can homeopathy be an effective cure for back pains?
Homeopathy is a holistic approach to studying and applying medicine to those who need it. For years, homeopathy treatment for back pains has not only brought fruitful results but has also led patients to never complain of back pains again for the rest of their life.
The homeopathy way of treating pain is completely different from the other medicinal ways. Homeopathy does not imply a focus on the pain of the disease but is rather keen to find the root and the reason for this susceptibility caused by the back pain.
Homeopathy medication seeks the root cause of why you are suffering from the particular back pain, what is causing it, and how it can be treated. Even the homeopathy medicines are not prescribed to only inflict and cure the exact muscle or area of the pain, the medicines are composed to heal your body from every side. The medicines make sure your body grows even stronger, restore its strength and increase its resistance power so that the back pain feels less painful.
Any homeopathy doctor or clinic will also take your, your family's, and your generational history on the health background. This gives homeopathy the chance of knowing your body from the insides and not just healing from the outside.
If you are suffering from severe and constant pains and is considering going for homeopathic treatment for back pains, then you should know that these are the benefits you will draw from it –
The homeopathic medicines release your muscle tension and free you from stiffness and pain
The medicines not only affect and addresses your physical pains but also generates happy hormones which lessen your irritability and lift your mood
The medicines are composed in such ways that it not only remedies your nerves but also cure them of acute damage. It helps to remove neurological pain
Decreases your soreness from all over the body
Minimizes muscle swell and helps them to relax
The homeopathic medicines lessen the numbness and pain around the painful back muscles