Hormones are important, more than what you think.
A Female's body consists of two hormones: Estrogen and Progesterone, with a mild presence of Testosterone. They decide your body's functionality, and any imbalance in these can lead to severe adverse effects. According to the women specialist in Chandigarh, hormonal imbalance can adversely affect female health and lead to daily life difficulties. Problems like improper menses, pregnancy complications, acne, pigmentation, hair loss, improper breast growth, bloating, mood swings, etc. are a few of the consequences of hormonal disorder. Watch out for the symptoms and, if experienced any, treat them with immediate effect. 
What are the signs of Hormonal disorders?
Women's health issues symptoms depend upon the hormones and glands affected due to imbalance.
Factors that trigger the Imbalance
Balanced hormones are the key to healthy living, but at times, the balance gets affected due to –
poor lifestyle,
being overweight
unhealthy/ inconsistent diet and nutrition
birth control medications
disturbing surroundings,
thyroid (underactive, overactive)
stressful work environment,
diabetes
irregular sleep pattern
emotional distress,
genetics,
anorexia (eating disorder; related to figure image; underweight)
exposure to adulterated consumables,
pollutants, toxins like pesticides, excessive technology engagement, and much more.

The factors striking the disorder are many, and so is the list of repercussions they bring along. Hence, listen to the women specialist in Chandigarh and try Homeopathy for female health problems. Have a cautious attitude towards your lifestyle can bring in positive change and restore the balance.
Common Women's Health Problem due to Hormonal Disorder
Women experience several gynae problems due to fluctuations in hormones throughout the lifetime. These problems arise during puberty; menstruation; pregnancy, delivery, breastfeeding; menopause, post-menopause, and pre-menopause.
Effects of Female Hormonal Disorder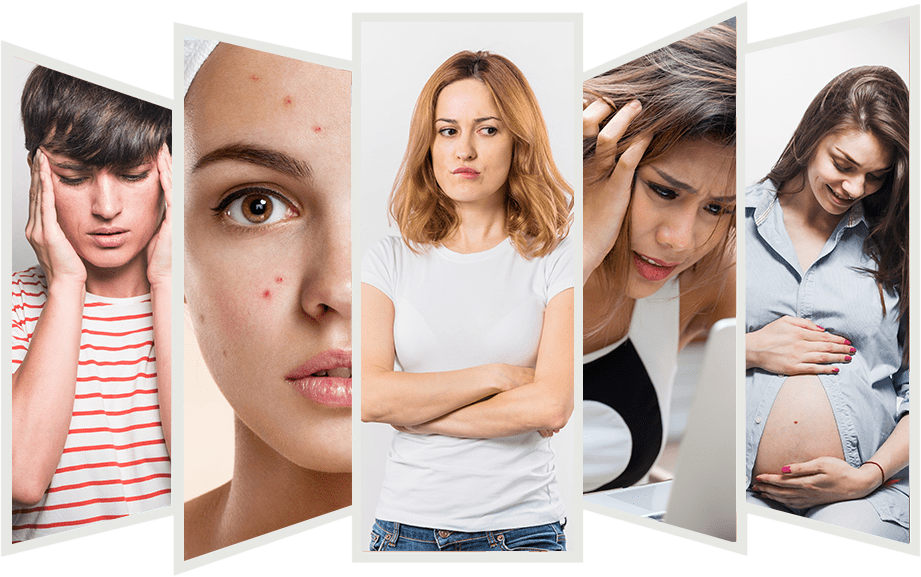 Conventional approach towards the treatment
Homeopathic approach towards treating Hormonal Imbalance
Why choose Homeoclinic for treating your hormonal disorders
At HomeoClinic, every female patient is individually assessed to determine her issues' underlying cause and then prescribed with tailored medicines. For the patient's monitoring, the doctors regularly use ultrasound and hormonal assay and scheduled clinical follow-ups to ensure the overall recovery. The women specialist in Chandigarh consults the patient to examine their stress levels and understand the mental suffering before prescribing the dose. We aim to act on your hormonal axis and help to synthesize the desired hormones naturally. Our medicines are not hormones, but they stimulate their usual production.
The women specialist in Chandigarh advises each procedure based upon the history of a patient and the treatment.