Psoriasis treatment in homeopathy – Everything you should know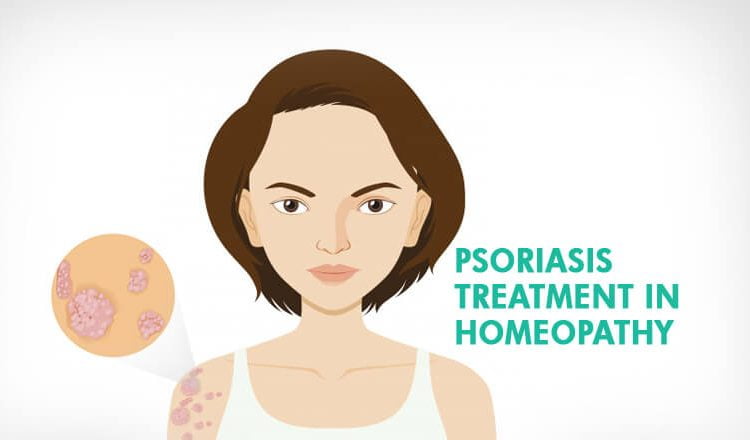 A chronic autoimmune disorder, psoriasis leads to abnormal cell buildup. This, in turn, causes redness and inflammation. It is one of the most common skin diseases, affecting a large chunk of the global population per year. Often, the first signs are scale-like development on the skin and red patches that crack and bleed. You'll find appropriate psoriasis treatment in homeopathy that'll alleviate and treat the condition without any side effects.
About Psoriasis
Symptoms
Before we talk about homeopathic remedies for psoriasis, let's see what the main symptoms of this disease are:
Skin inflammation: The most prominent symptom is the appearance of rashes and raised patches on the skin. Some even notice the formation of plaques on the red patches.
Dry Skin and Soreness: Dry, cracked skin can lead to bleeding and soreness. So, if you notice red or dry patches and the area around it is sore, it can be a sign of psoriasis. Cold weather often worsens this condition.
Painful Joints: Dandruff-like white scales and painful joints are among the most common psoriasis symptom.
Causes
Psoriasis is an immune system disorder that leads to the regeneration of the skin at uncontrolled rates, resulting in scales and patches. What causes this immune response has not been medically ascertained, but specific triggers, genetics, and environmental factors play a central role in it.
Recommended: Homeopathic treatment for irregular periods and heavy menstrual bleeding
The good news is that it isn't contagious. However, it still needs proper treatment and medical attention. Psoriasis treatment in homeopathy aims at treating the immune system of the concerned person as a whole and improve their immune system. As a result, the system begins to identify the body's cells and slow down the cells' exponential multiplication.
Risk Factors
Genetics: People who have a family history of psoriasis and other aligned skin conditions are more likely to develop it.
Stress: Stress triggers impact your immune system. As a result, people often develop this condition, and for those who have mild symptoms, a massive flare-up is seen.
Smoking and Alcohol Consumption: Smoking and high alcohol consumption can trigger flare-ups. Smoking also plays a significant role in its initial development. Therefore, people with psoriasis are advised to reduce their alcohol intake.
Psoriasis Triggers
There are a few triggers that can lead to a new bout of this disease. Although they are not the same for everyone, it's essential to know a few common ones.
Cold, dry weather
Smoking – active or passive
Cuts, scrapes, bug bites, sunburn, and skin injury
Consumption of alcohol
Certain drugs, especially blood pressure medications, antimalaria medicines, etc.
Recommended: Homeopathy for Covid 19
Complications
Once you show the first symptoms, it is imperative to seek a homeopathic remedy for psoriasis. Otherwise, the condition worsens and takes time to treat. Also, it leads to other complications, some of which have been listed below:
Conjunctivitis, uveitis, and other eye conditions.
Psoriatic arthritis leads to severe pain and stiffness around the joints
Diabetes mellitus
Obesity
Autoimmune diseases such as sclerosis, Crohn's disease, and celiac disease
Low self-esteem leading to anxiety and depression
Cardiovascular diseases
Psoriasis treatment in homeopathy
Psoriasis cure in homeopathy is easy to find by getting in touch with a reputed homeopathic doctor. As you might already know, homeopathy aims at treating the disease from the very root and eliminate chances of a relapse.
When it comes to psoriasis, the doctor will suggest specific lifestyle changes and focus on correcting the immune system and its response to environmental changes. This prevents flare-ups.
Psoriasis treatment in homeopathy focuses on targeting the immune system and bring it back to normalcy without producing any side effects.
Given the nature of the skin disease, the treatment is a long-term process and needs tremendous patience. That said, the results are effective and permanent.
Short-term treatments prevent flare-ups and provide temporary relief and constitutional treatment aims to provide a permanent solution. So, visit the best homeopathic clinic to avail of their services at the earliest!