Homeopathic Treatment for Infertility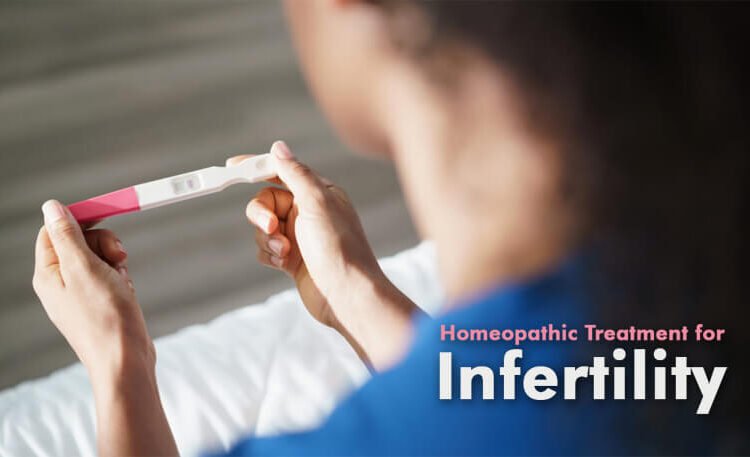 As big a taboo as infertility is, it is apparent that the couples hesitate to acknowledge that either one or both may have problems that cause difficulties in conceiving. But when they finally accept their problems, the dilemma is around the best possible cure.
Infertility
Are you also facing a situation wherein you want to have a child but cannot due to some reason, known or not? Are you also haunted with various questions such as: –
Which type of treatment is best for you?
Can it be done naturally, or you have to go for artificial medicine?
How big a hole would it burn in your pocket?
How much time will it take to improve your situation?
Will there be any side-effects of the treatment?
To what extent you will need to compromise on your personal and professional life?
Well, these are crucial questions as they affect your future life and happiness. Why don't you check out our point of view on the best option?
We believe Homeopathic Treatment for Infertility is the best way to go. It offers a significant advantage over other conventional treatments.
The medicines do not only help in boosting fertility naturally but also assist in conceiving. Solutions like IVF, ICSI, IUI, etc., is both emotionally and physically draining, and sometimes a helping hand is required to go through them. Inability to bear a child can already have an intense psychological effect on the couple. Adding the stress of going through various medical remedies can take a toll on them. It can drain a pair of any hope of success and cause severe anxiety. In such situations, Homeopathy medicine can help in regaining hope and deal with stress and depression.
Recommended reading: Children and the Immunity
Homeopathy – A Holistic Approach to treat infertility
Homeopathy has a holistic approach, which essentially means it looks at the patient as a whole, taking care of their physical, emotional, social, spiritual, and intellectual health and not just their specific need. It's a medicine that helps empower the immunity to fight the issues our body faces and nourish it with self-healing. It works on the root cause of the problem and treats it in the best way possible.
Lack of any side-effect makes Homeopathic remedies safe, and records show that the medication gives pretty encouraging results. The medicine uses the body's defense mechanism to fight the reason behind the inability to bear a child better than other conventional treatments, making it a non-intrusive and safest option. The main advantage of using Homeopathic medicines is that they are derived from natural substances, making them toxin-free and safer for an extended period.
Recommended reading: Food Intolerance Test
Causes of Infertility in both Men and Women
Infertility is not being able to conceive even after trying for at least 12 months. There are many factors involved that can cause delay or inability to get pregnant such as:
Age
Ovulation Problems
Menstrual Issues
Low Sperm Count
Impotence
Hormonal Imbalance
Blockage in fallopian tubes
Issues in Uterus
The problem in testes due to infections such as mumps, etc. or congenital disabilities
Thyroid
Weight Issues
Diabetes
Depression
Stress
Smoking
Alcoholism
Anemia
Drugs consumption
Sexually Transmitted Diseases,
Endometriosis
PID – pelvic inflammatory disease
PCOS – polycystic ovarian syndrome
Cysts
Fibroids
History of Miscarriages
Low Libido
Decrease Sperm Motility
Quality of Sperm
Genetic or Autoimmune Dysfunctions
Nutritional Deficiencies
Exposure to toxins
Emotions
Homeopathic Treatment for Infertility
Homeopathy has shown exceptional results in helping the patients. More and more couples have started to opt for Homeopathy as it believes in boosting the person's overall health while it deals with the inability to conceive a child and other challenges.
Recommended reading: Track your hormonal health under 60 seconds
Homeopathy helps in dealing with:
stressful situations that come with various fertility treatments and the side-effects
loss of hope
depression and anxiety
lack of determination
emotional instability
unresolved thoughts
Medically it helps:
regulate the menstrual cycle
balance the hormones
increase sperm count
improve sperm motility
enhance ovulation cycle
improve the quality of the sperm (density and percentage)
deal with side effects of conventional treatments such as IVF, ICSI, IUI, etc.
fight medical conditions like PCOS, PID, cysts, fibroids, etc.
The Homeopathic Treatment for infertility for every patient is customized according to their needs. The medicinal course for any condition is supported by a change in lifestyle choices and a healthy diet routine, bringing positive results for couples trying to conceive.
Recommended reading: Hormones are important, more than what you think
Successful Treatments
The key to any successful therapy is combining the right medicine according to the medical condition and the patient's body constitution. Homeopathic Treatment for Infertility is also the same; the right combination of medicinal components can help treat the issue and boost the person's overall health.
Recommended reading: Best Homeopathic Clinics in Chandigarh
Any remedy/medicine does its wonders only if one believes in the journey and keeps morale and determination high. The more the positivity, the better the results!