Rheumatic Arthritic Pain Homeopathic Medicines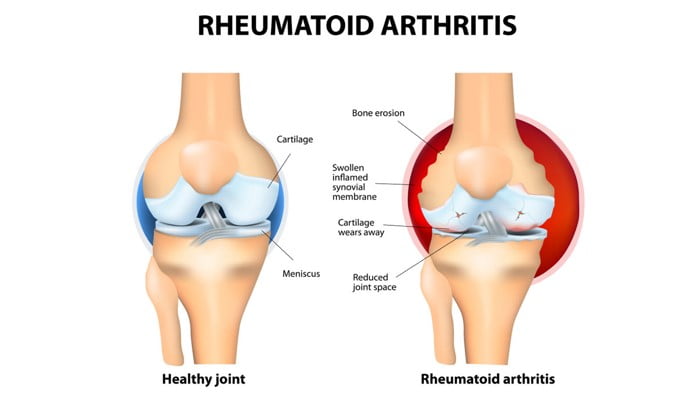 Rheumatoid arthritis (RA) is an autoimmune disease that is chronic (ongoing). It occurs in the joints on both sides of your body, which makes it different from other types of arthritis. You may have symptoms of pain and inflammation in your:
Fingers.
Hands.
Wrists
Knees
Ankles.
Feet.
Toes.
Symptoms of rheumatoid arthritis include:
Pain, swelling, stiffness and tenderness in more than one joint.
Stiffness, especially in the morning or after sitting for long periods.
Pain and stiffness in the same joints on both sides of your body.
Fatigue (extreme tiredness).
Weakness.
What causes rheumatoid arthritis?
The exact cause of rheumatoid arthritis is unknown. Researchers think it's caused by a combination of genetics, hormones and environmental factors.
Normally, your immune system protects your body from disease. With rheumatoid arthritis, something triggers your immune system to attack your joints. An infection, smoking or physical or emotional stress may be triggering.
Is homeopathy effective for rheumatic and arthritic pain?
Homeopathy treatment for Arthritics is the best way to get cure with no possibility of side effects. The proper homeopathy treatment for arthritis is able to deliver a good and long-lasting alleviation in terms of pain, stiffness, swelling like symptoms, in addition to slowing down the worsening of condition.
What are the best homeopathic medicines for rheumatic and arthritic pain?
Top 8 homeopathic medicine for rheumatic arthritic pain.
Homeopathic medicine
Symptoms
Better
Worse
Apis mell
Oedema, synovitis.
Swollen knee.
Rheumatic pain in
back and limbs. Sore
sensitive skin
In open air and
after cold bathing
Heat and touch
Bryonia
Knees stiff and
painful. Joints red,
swollen and hot
Application of cold
Warmth and motion
Causticum
Warmth, especially
heat of bed
Warmth, especially heat of bed
Dry cold winds
Dulcamara
Pain in shin bones.
Often associated with
skin eruptions
Movement
At night
Kalmia
Pains affect hips to
knees and feet. Sense
of coldness in limbs.
Joints red, hot and
swollen
Warmth
Motion
Ledum
Pains in foot and in
joints, especially
small joints. Swollen,
hot. Throbbing in
right shoulder
Cold
At night and
from heat of bed
Rhododendron
Swollen joints,
inflammation of big
toe joint. Pain
especially on right
side of limbs. Stiff neck
With warmth and eating
At rest and at night. Extreme sensitivity to changes in weather
Rhus tox
Rheumatic pains over neck, thighs and extremities
With movement and in warmth
In the cold and
at night
Disclaimer
None of the medicines mentioned including services, at homeoclinicbydrnanda.com should be used with clearance from your physician or healthcare provider. We do not claim to cure any disease which is considered 'incurable' on the basis of scientific facts by modern medicine. The website's content is not a substitute for direct, personal, professional medical care and diagnosis.