Children and the Immunity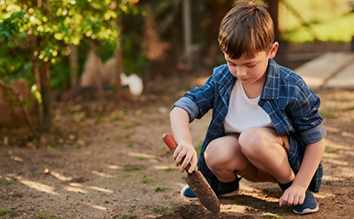 Children and the Immunity
Every child is a gift to his or her parents – God's little angels sent to make the earth a better place to live in
All of us believe in the above statement yet how many of us would be aware that today three out of every five children suffer from diseases like asthma? Or that, there are a good number of children who are victims of diseases like autism. For parents, the biggest dilemma is finding the kind of treatment that frees their children from the clutches of such monstrous diseases without hampering the growth and personality development of their child.
How many of us have sat at our child's bedside feeling helpless as the child suffers from repeated colds, fevers, respiratory complaints, painful earaches or tonsillitis, etc. Not knowing if anything is seriously wrong and wanting to seek some sort of relief for our child, we may take her to see a medical doctor. Chances are likely that she will be given an antibiotic, cough suppressant, a decongestant. You do as advised, your child recovers only to relapse again shortly after. Now what? Another round of antibiotics and more drugs?
Homeopathic treatment will help at all stages of childhood illness: with an itchy rash or painful, swollen tonsils; with an accompanying cough or sore throat. Antibiotic treatment is ineffective for viral infections and will only add to your child's stress load. Avoid them during this time and use homeopathic remedies to help stimulate your child's inner healer."
For those of you who are unfamiliar with Homeopathy as a treatment option, let me inform you that Homeopathy is a therapy that was discovered more than 200 years ago by a German physician, Samuel Hahnemann, who postulated that substances in nature that cause symptoms in healthy individuals will cure similar symptoms in sick individuals. Furthermore, these substances are so very diluted as to make them safe and non-toxic even if it does not directly address the targeted situation.
As a rule, viral conditions do not respond to antibiotics. Diseases suppressed can hinder your child's immune system and leave it vulnerable to other serious conditions. As parents, we need more options. Homeopathy is a wonderful therapy that can fill that role.
Recommended reading: Food Intolerance Test
This system of medicine prescribes treatment only after a thorough understanding of the behavior and nature of the patient. There is an effort to read an individual's personality traits-the 'constitution'. Diseases are treated at the genetic level. Attempts are made to remove the root cause of the problem rather than give a temporary solution. It is a misconception that Homeopathy is a slow process. This is a false view adhered to by people who are looking for quick relief without realizing the damage that suppressive, temporary cures of diseases do to their bodies.
Every child is unique in his or her own way, he says, which is why we don't just sit and ask parents what they think of their child. We let the child's actions speak for him. It is perhaps this very approach that assures parents like Mrs. Mehta whose daughter Reyna has been showing improvement within three months of taking medicines from here for asthma and her multiple allergies.
The little girl is now free from inhalers and despite being an asthma patient is on her way to enjoying ice-creams!
If you have tried everything else and are still not in wonderful good health why not give Homeopathy a chance to help you. , it has won praise especially for the treatment of little new-born, neonate, infants and children; of course for a variety of reasons.
Recommended reading: Child Growth Calculator
Essentially, any medicine administered to children must be free from harmful effects. Homeopathic medicines are prepared mainly from herbs, vegetable kingdom, minerals and are given in very minute doses so that they are 100% non-toxic, having no adverse effects whatsoever.
Unlike antibiotics and other such medicine, homeopathic pills do not hamper digestion; does not lower resistance power; does not produce allergy and does not harm even if taken for long-term. Homeopathy pills being sweet in taste, is accepted with pleasure by children. They are never bitter, cause no nauseating feeling and kids do not make a fuss while taking homeopathic medicines.
Treating children has always been a challenge for the homeopath and We are successfully treating pediatrics cases ranging from all kinds of allergy-like dust allergies, food allergies (milk/nuts/wheat) and skin allergies to Tonsils/adenoids, Improper growth, bedwetting At Dr. Nanda's Homoeoclinic, we promote healing in a holistic fashion through an emphasis on the accuracy of treatment and elimination of the disease from the root.
We achieve this by following our own innovative approach. Where allopathic medicine merely suppresses symptoms, with the right homeopathic remedy homeopathic medicines stimulate the patient immune system and work much more completely.
Gift your child a better tomorrow.